Staircare FRP handrail SC-R™ offer strength, durability and versatility of installation with many advantages over traditional materials. It is a lightweight modular system with multiple use.
Staircare FRP Handrail SC-R™ have been tested to AS1657-2018. The load testing confirmed the suitability of SC-R™ as handrail or guardrail systems. Guardrails would be in combination with SC-R ™ kick plates.
FRP Handrails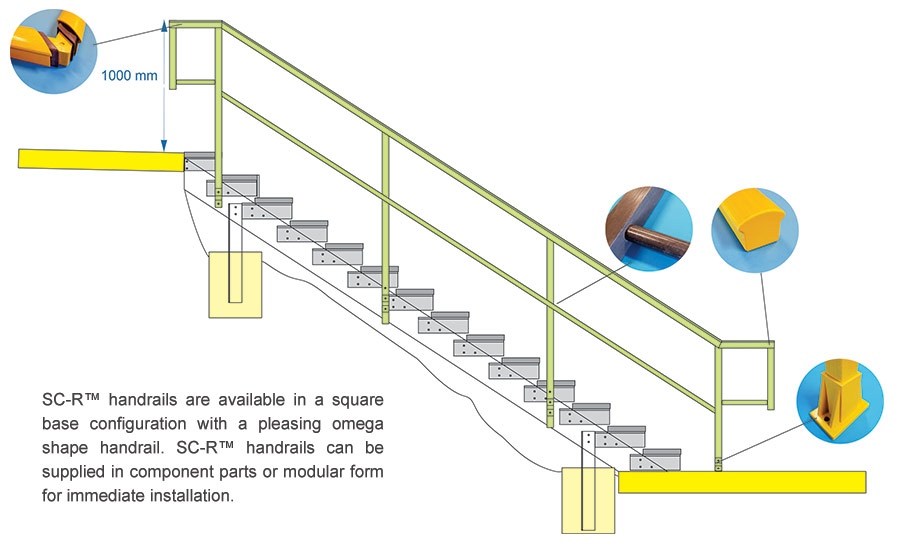 SC-R guardrailing: Staircare offers a round ribbed tube configuration with solid FRP connectors and SC-R kickboard that results in a robust, strong guardrail system well suited for platforms and fall from heights protection.
FRP Handrail and Guardrails SC-R™ Benefits
SC-R™ FRP handrails and guardrails require installation skills, however, there is no need for specialist trades such as welding or hot works permits. Hand and guardrails are non-conductive, lightweight, do not create toxic fumes and can be installed in wet areas.
Staircare SC-R™ handrail, stair tread, grating and structural shapes combine to a FRP system that provides safe and versatile access. Made from FRP composite materials they provide the ultimate in corrosion resistance for aggressive environments.
SC-R™ hand and guardrails are made from FRP with a suitable resin system and UV protection designed to meet individual site requirements.
Low installation cost, no welding or need for hot works permits
Lightweight, high strength to weight, no need for heavy lifting equipment
AS 1657-2018 compliant
Corrosion and resistant
No thermal and electric conductivity
UV resistant with fire retardant
Low maintenance, no re painting, easily cleaned with water pressure for a long service life