Moulded vs. Pultruded, plus a description of various FRP finishes.
Staircare SC-R Fiberglass Reinforced Polymer FRP products come in 2 structures (Moulded and Pultruded) to suit a range of applications. Once the appropriate FRP structure is chosen, the product can then be constructed with your selected finish. For any assistance, please contact us.
FRP Structure Options
Staircare SC-R Moulded FRP Grates
Moulded FRP Grates are available in either square mesh or rectangle mesh configuration. They are formed using continuous interwoven glass fibers encapsulated with a resin matrix. Moulded square mesh grates offer bi-directional strength and are ideal for installations requiring multiple penetrations.
Staircare SC-R Pultruded FRP Grates
Pultruded FRP grates offer only one directional load bearing properties, they have exceptional strength and are able to provide much greater load spans than the equivalent height moulded grating. Pultruded grates are made of 'I' or 'T' type pultruded independent load bars. Pultruded grates are widely used for platforms where large spans are required.
FRP Finishes
Smooth Surface FRP Grating
FPR grating with smooth surface finish is suited for waste water solids screens, fences, machine screens etc. Smooth surface grating can also be produced in translucent form
for decorative application.
Concave Surface FRP Grating
FRP grating with a concave surface, finish is suited for light foot traffic, food preparation and other hygiene applications, or in areas where non conductive and non sparking properties are important.
Gritted Surface FRP Grating
During the manufacturing process a silicon carbide anti-slip grit is incorporated into the surface to offer a high resistance anti-slip surface.
Mini Mesh FRP Grating
Mini Mesh has a 12mm x 12mm open mesh area. The smaller mesh opening prevents objects from falling through. Suitable for pedestrian walkways, boardwalks, safe access for disabled, and wheelchairs.
Gritted Cover Plate Grating
An approx 3mm thick plate is bonded to the grate to form a strong, lightweight covered panel. Panels are available with silicon carbide grit and offer light but strong trench covers, walkways cable throughs and pit covers.
FRP Resin System Choices
Three standard resin systems are available to handle almost any application. For any assistance, please contact us.
| | | |
| --- | --- | --- |
| Resin Type | Description | Application |
| Isophthalic Polyester | Industrial grade corrosion resistance and fire retardant, flame spread rating ASTM E84 Class 1, 25 or less. Operating temp -50oc /+105oc | Most applications, salt environments, middle concentration of acid & alkali, waste water, certain chemical industries. |
| Vinyl Ester | Superior corrosion resistance and enhanced fire retardant. Flame spread rating ASTM E84 Class 1, 25 or less. temp -50oc /+115oc | Highly aggressive environments with serious corrosion issues. |
| Phenolic Resin | Low smoke and superior Fire resistance. Flame spread rating ASTM E84 Class 1, 5 or less. Smoke developed index zero, operating up to 180oc | For use where high fire resistance, low smoke and low toxic fumes are required e.g. offshore platforms. |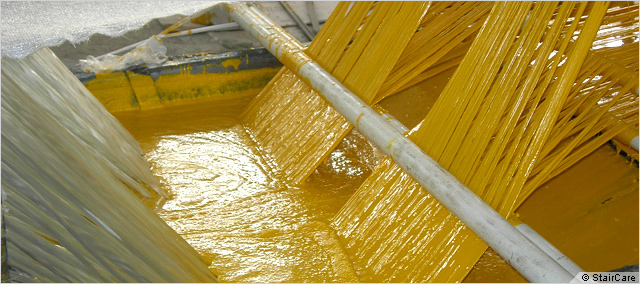 Photo shows fibreglass strands pulled through coloured resin mix as part of the FRP construction process.